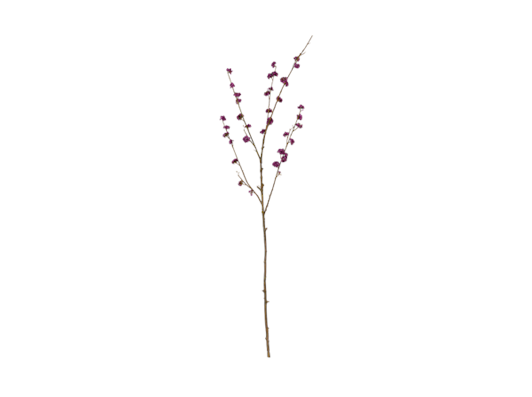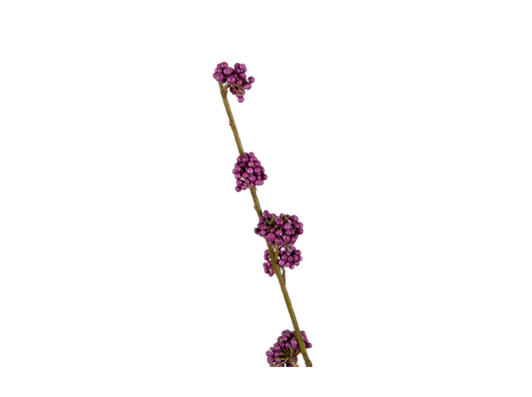 Callicarpa Twig
32€
Available in 4 weeks
We're experiencing delays due to challenges from the pandemic and its impact on our production houses and shipping. Thank you for your patience
Otherwise known as the beauty berry, Callicarpa grows small, jewel-like purple berries along its bare branches – and we've replicated this delicate design in our life-like stems. The real plant grows well in sunshine but also in dappled shade during autumn under a woodland canopy, so our version is ideal for creating a seasonal scene, whether it be on display in spring or autumn.
The materials
As our stems are life-like, we want them to look indistinguishable from the real thing. So, that's why, on each stem, we've added a hidden wire inside that allows you to bend it into a natural position rather than have it sitting straight up.
Why life-like?
Having flowers and foliage in your home makes such a difference – they're one of those final touches that helps it feel more lived in. And stems that look as good on Friday as they did on Monday are even better – no water to change, nothing to trim, no mess, no fuss, and no wilting.
Arrangement ideas
To continue the warm, autumnal feel, blend this purple-tinted berry twig with Eucalyptus Burgundy and our Beech Spray in Burnt Orange – the latter has branching stems which act as a colourful filler in floral arrangements.
Care guide
Look after your life-like stems with just a quick weekly dust. Use a clean feather duster or a wipe to keep your bouquet looking as good as new. The wire in the stem is tough so you can't accidentally snap it. But you'll need something powerful if you want to trim it down. We've found long-handled loppers (the ones for pruning shrubs and trees) or wire cutters do the trick. The wire inside also means you can't put your stem in water for long or it'll rust. So, if you're arranging it with real flowers, bend the life-like stem up out of the water.