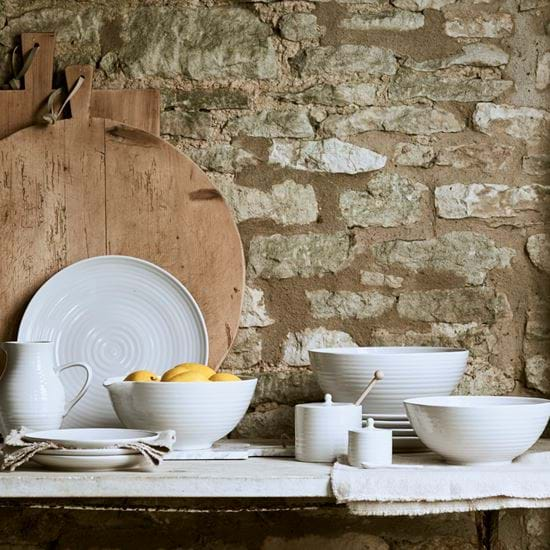 Lewes
Choose our Lewes crockery collection for its texture (glossy glaze and gently undulating ripples), its colour (pale and delicate grey) and the classic meets contemporary shapes.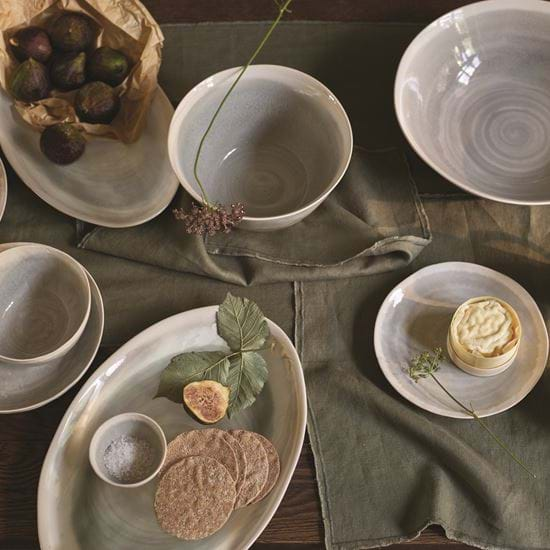 Lulworth
With its hand-applied wash of glaze and watery palette of off-white and grey-blue, our Lulworth crockery collection will bring a little laidback coastal style to everyday breakfasts, lunches and suppers.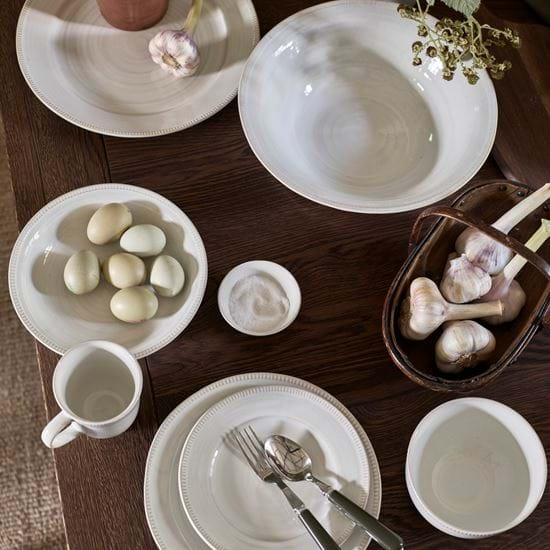 Sutton
Crimped edges and a soft, off-white glaze that's very gently distressed on the edges give our Sutton crockery set a warm and homely feel. Just the thing for everyday dining, you can also dress it up by mixing it with more decorative serving pieces like Olney.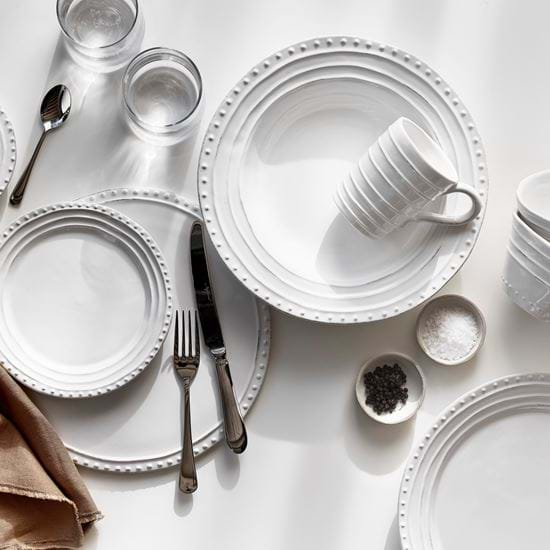 Bowsley
The artisan-inspired collection. Bowsley's a dotted and rippled design with a slightly wavy-edged shape and distressed glaze detail in pale grey. These are pieces for lending your table a country cottage feel.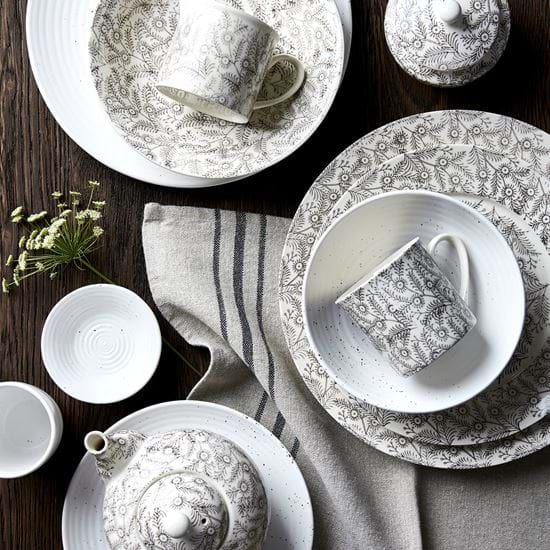 Olney
Our patterned collection: hand-stamped with a delicate, stylised thistle motif for a naturally varied look that makes each piece individual. Olney comes in several timeless shades: pale and subtly pretty Flax Blue; earthy grey-brown Walnut; and rich terracotta Burnt Sienna.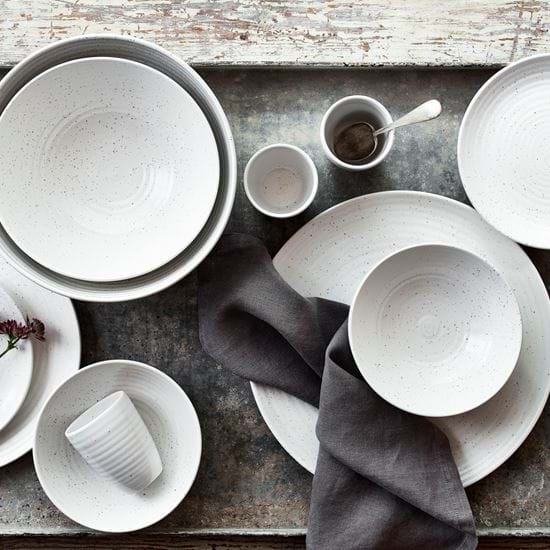 Lowther
Our contemporary craft collection, all the Lowther pieces have simple shapes, slightly rippled surfaces – as if they've just come off the potter's wheel – and speckled, dark brown detailing.
Bretby
Bretby is a delicately coloured serving collection in pale greyish blue, patterned by the dappled effect created by the glaze. Pair it with other subtly textured tabletop pieces for a contemporary craft feel.
Lamorran
A low bowl in a generously large size that's perfect for sharing dishes such as salad and pasta. With its fluted sides and bobbled rim, it would suit a laidback setting perfectly, and mixes well with the other textured designs in our tabletop crockery collection.
Croxton
An unfussy, everyday collection. Croxton's dimpled edge detail was inspired by the fork marks on home-made pies. It has a simpler look than Bowsley (which it mixes brilliantly with) but will still add texture and interest to your table.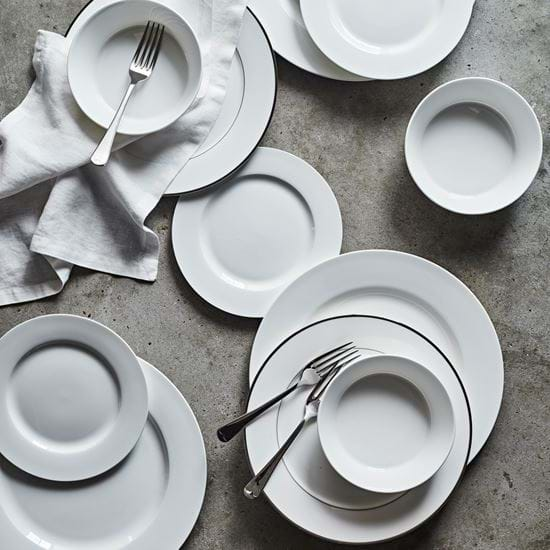 Fenton
Fenton is our contemporary fine bone china tableware: understated, crisp and clean, pure white pieces that have a more delicate look and feel to our stoneware collections.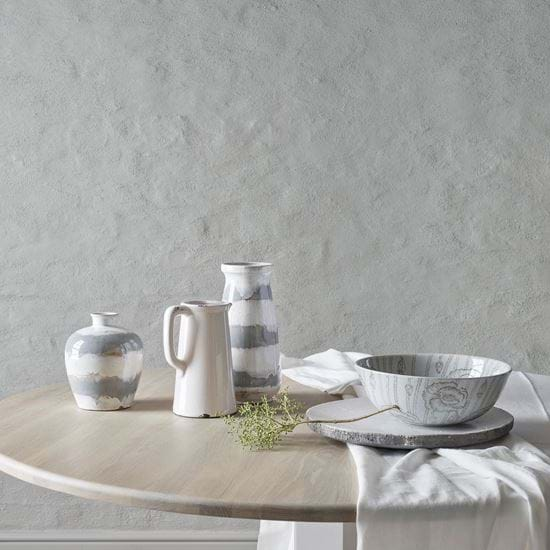 Syon
Syon is a serving collection that, like Olney, will bring pattern to your tabletop, adding more colour and interest to plainer everyday pieces. Syon's pattern takes the shape of neutral, hand-stamped cabbage roses.