Pantone & its 'Color of the Year'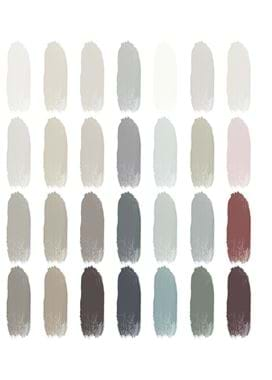 Pantone & its 'Color of the Year'
Pantone® is known for being the world's authority on colour. Every year, its Color Institute announces the 'Color of the Year'. It's both a prediction and a trend confirmation of what we'll be seeing in the design world for the next 365 days. Last year, it was 'Greenery'. The year before that it chose two – 'Rose Quartz' and 'Serenity'. For 2018, Pantone brings us 'Ultra Violet', and, for the first time, many went, so what?
As a brand who doesn't follow trends (we're more in the game of timelessness), we were intrigued by the shift in mentality, the sudden indifferent reaction. The question on everyone's lips seemed to be, have they just got it wrong this year? Or, are the colour trend days over?
So, exactly who or what is Pantone?
The question of who determines a trend is one that's been asked a thousand times. But, when it comes to colour, Pantone are often held up as being the go-to guys.
The organisation began back in the 1950s, and over the years, they've become known for their colour-matching system (a way to index every type of colour, referenced on a fan-deck of swatches that's used by brands all over the world to create consistency in colour).
Fast forward fifty years, and the Pantone Color Institute revealed its first-ever 'Color of the Year' in 2000. It marked the beginning of a new industry standard. From then on, Pantone organised a secret meeting in a European capital city to bring together colour experts from around the world to discuss, debate and decide what the colour for the next calendar year would be.
And what does the Color of the Year stand for?
Pantone's Color of the Year is there to confirm or deny trend forecasts for the season. The catwalks and the world's media tend to declare a few dominant shades for each season, whereas generally, Pantone settles on one (two at most, as was the case in 2016). Once announced, it's then viewed as the key colour to inspire the world of design – from fashion to interiors.
Sometimes it's a reflection of nature. Other times it's a political statement. But mostly, Pantone chooses a colour that's supposed to connect with how the world is feeling at the time – quite a challenge it would seem. And perhaps that's where the problem lies…
2018 – the year everything changed
When it comes to trends, there will always be naysayers. Here at Neptune, we certainly prefer to determine our own course, seeking to achieve timelessness rather than something that'll come and go. But, when Pantone announced Ultra Violet as it's Color of the Year for 2018, it was met, en masse, with resistance.
Laurie Pressman, vice president of the Pantone Colour Institute, explained how the new shade (coded, 18-3838) "alludes to the mysteries of the cosmos and the unknown." She went on to explain how "the Pantone Color of the Year has come to mean so much more than 'what's trending' in the world of design; it's truly a reflection of what's needed in our world today."
In the days that followed its 'unveiling', many of Britain's national newspapers, lifestyle magazines and blogs wrote articles, strongly worded ones at that, questioning whether anybody actually cares and questioning, incredulously, how Ultra Violet could possibly be the answer to what the world needs. It seemed short-sighted, too generalist, too naïve, too insulting, considering what's going on in the world. Others pointed out that we shouldn't be governed so strictly by what colour is now deemed better than the rest.
Many publications then resumed normal practice of talking about the new colour in more of a positive light, explaining what other shades it pairs with and so forth, but the question marks and indignation were there. They'd happened. Foreheads burrowed into frowns, eyebrows were raised, and so far, we're yet to see Ultra Violet taking over in any shape or form.
Let's see what the rest of the season brings. And let's see what the reaction is when 2019's shade is proclaimed. Until then though, we'll continue to enjoy the entirety of our colour palette rather than turning our backs on tones of grey, blue and cream, as well as welcoming our newest shade for 2018 with our spring/summer collection. And purple it most certainly is not…
Our spring/summer collection and newest seasonal colour will be revealed on 1st March 2018. Be the first to know by signing up to our weekly newsletter.