Edible gingerbread festive decorations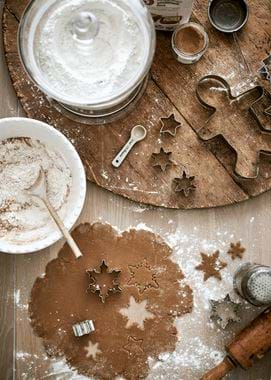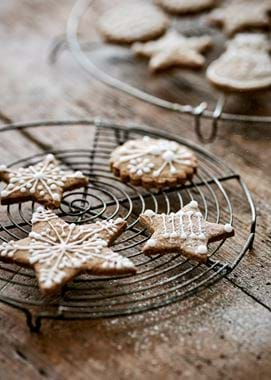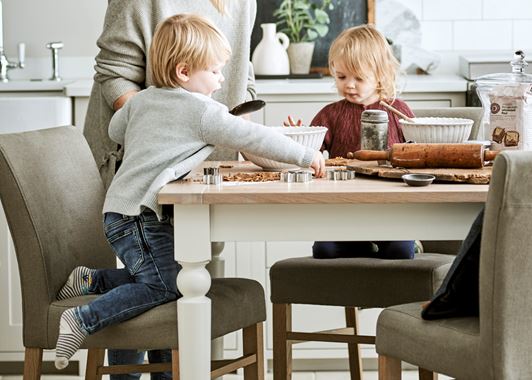 Edible gingerbread festive decorations
Gingerbread and Christmastime – a match made in festive heaven. From Hansel and Gretel-esque gingerbread houses to bakery windows filled with Father Christmas piped gingerbread biscuits, December effectively becomes a time to build a gingerbread-spiced shrine to admire (and later devour).
While our Christmas collection is more a spectacle of bronze and brass, mercurised glass and delicate ceramic, we're very much believers in championing a crafted Christmas. The best festive schemes are those that combine beautifully-made decorations that you'll want to cherish for many Christmases to come, but that also leave room to sneak in a few created by your own fair hands.
Enter our resident nutritional therapist and cook, Georgie Prowse, who below shares her version of spiced gingerbread for turning into edible Christmas tree decorations. Both vegan and gluten-free, it means nobody is left out of the nibbling. Hang them on your tree using clear thread if you like the idea of them floating. Otherwise, pick out a ribbon or two – try mixing thicknesses, material or colour – and loop them from your tree's branches that way.
Vegan, gluten-free gingerbread
Makes enough for: 35–40 shapes
Put aside: 45 minutes for prep and ten minutes for baking
What you'll need
For the gingerbread
400g plain flour gluten free, plus an extra sprinkle or two for rolling
2 tsp ground ginger
1 tsp cinnamon
1 tsp all spice
1 tsp baking powder
150g coconut oil slightly softened
150g coconut sugar
50g maple syrup
1 tbsp chia seeds
5 tbsp water

For the icing
50g icing sugar
A splash of water
What to do
1 First up, fetch a small bowl to mix together the chia seeds with three tablespoons of cold water. Leave for ten minutes to form a gel-like consistency.
2 Next, this time in a large bowl, combine the flour with the spices and baking powder before getting hands-on by rubbing in the coconut oil using your fingertips. A breadcrumb consistency is the aim.
3 Back to your small bowl, add the coconut sugar and maple syrup to the chia seed mixture along with a further two tablespoons of water. Stir until it's lump-free.
4 At this stage, preheat your oven to 180ºC fan or gas mark six, and line a few baking sheets.
5 Back to baking, introduce the wet ingredients to the dry, stirring to combine.
6 Dust your work surface with flour and turn out the contents of the bowl, kneading them by hand to form a smooth dough. Add a touch more floor if you need to – the consistency shouldn't be sticky.
7 With rolling pin in hand, roll out the dough to 3mm thick and then use cookie cutters of whatever shape you fancy to make your gingerbread pieces. Re-roll any leftover dough and repeat, until all of your gingerbread is used up. 
8 Pop them onto the baking sheets and bake for ten minutes – they should be just beginning to colour. Remember that biscuits continue to bake a little when they're out of the oven so don't worry if they seem a touch soft. 
9 While they're still warm, make a hole in the top of each biscuit to thread your ribbon through.
10 Leave them to cool completely before icing – if you want to ice them that is. To make them as neat as can be, use a piping bag with your icing mixture being a thick paste consistency. Then pipe away!