A smooth transition: blending the dining room into the kitchen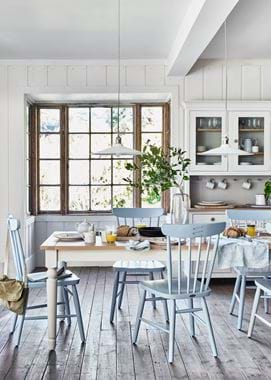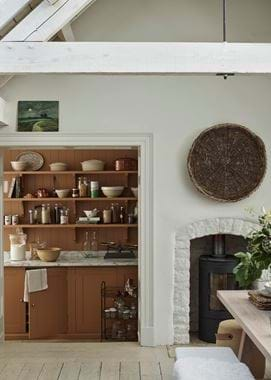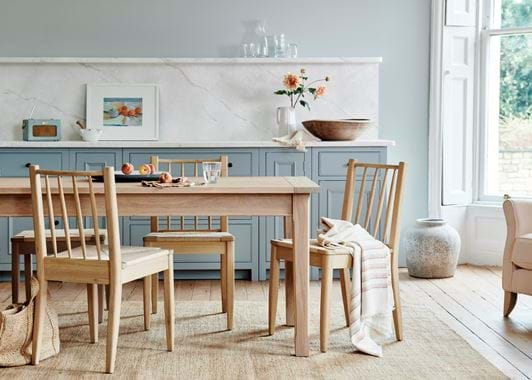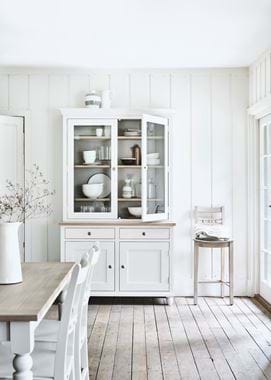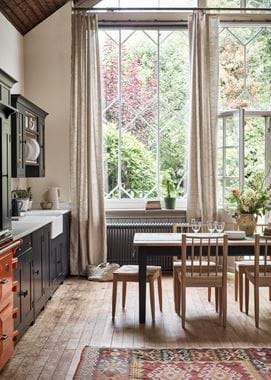 A smooth transition: blending the dining room into the kitchen
Does your home have an open-plan downstairs layout? Have you knocked down walls to bid a fond farewell to the dining room so that you have one large kitchen-dining room? Or, are you fortunate enough to have a vast kitchen space with ample opportunity to fit in a dining section, as well as keeping your more formal dining room with all of its walls intact? Either way, open-plan design consists of not simply breaking down room boundaries and zoning the space. To establish something that feels linked and yet distinct – you don't want to lose the sentiment of there being multiple rooms combined – you need to pay close attention to your decorating plans. Here are a five ways that you can successfully blend a dining area into the kitchen, smoothly and seamlessly.
1 Mix in furniture that matches the kitchen cabinetry
Most of your kitchen is likely to consist of fitted cabinets, perhaps with one or two pieces that are freestanding. But if you pick out a statement item of furniture, like a dresser, sideboard or dining table, that will stand in the dining zone and is of the same style as your cabinetry, it blurs the line between where one space begins and the other ends.
Or, can you use shelving in parts of the kitchen, rather than wall cabinets, that correspond with the dining table?
2 Use colour as one continuous thread
Your colour palette is one of the best tools you can use to create links between spaces. But keep them subtle so that the shift feels natural rather than immediately noticeable. Take Snow for example. Cabinetry painted in this shade can also be used to flood into the walls and ceiling. By then referencing it on just a couple of dining chairs, the result is felt first seen later rather than coming across as a deliberate attempt to meld the kitchen and dining room together. 
3 Pick up on similar material tones
Don't forget that your colour palette is more than just the paint used on walls; the materials in the room all contribute too. Even if your layout means that the dining zone is in close proximity to your kitchen, you still need to make sure the two bind together. If your kitchen has painted cabinets but your dining table and chairs are oak, look to include elements in the kitchen that are of a similar tone. 
4 Lean on your lighting
These bridge-building techniques don't have to rely on furniture or colour. Is there a style of lighting that you've used in the kitchen that can be featured in the dining area too? Picture our Browning pendant light over the kitchen island and then one of the smaller versions hanging over the dining table. Or, if you want it to match a little less, a few Browning wall lights surrounding your eating area. Subtler still, you don't necessarily need the lighting to be from the same collection. A match in materials will play its role too, such as our glass and chrome Shaftesbury pendant with the chrome Keats placed elsewhere.
5 Fall back on accessories
Never ever underestimate the power of accessories. Their potential and power on a room's language is huge, so use them to your best advantage when uniting the zones of your open-plan room. The key, as always, is not to go overboard. As soon as you begin to try too hard, your scheme will feel staged. Instead, imagine this as sowing and planting the odd seed and then scattering a few more as you move around the room. It could be that you have white-glazed crockery on display in the kitchen and then repeat that through vases and ornaments in the dining area. Or, you've gone big on greenery in the kitchen with grow-your-own herbs in rustic pots, which can easily be popped onto a bookcase in your dining room section where they'll feel perfectly at home.