In the kitchen: The Provenist's beetroot brownies recipe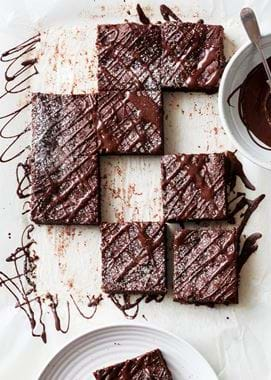 In the kitchen: The Provenist's beetroot brownies recipe
At our sister café, The Provenist (which you'll find next door to Neptune Bath), the menu is all about balance. Eating nutritious dishes is a big part of their philosophy there, but that doesn't mean there isn't room for the occasional slice of homemade cake, and especially when it's one that makes a few healthier choices. Case in point: their moreish brownies, given a deliciously earthy (and wholesome) twist with the addition of beetroot.
Makes nine, generously-sized brownies
What you'll need
3 eggs
190g gluten-free plain flour
150g soft, light brown sugar
200g dark chocolate chips
60g cocoa powder
250g unsalted butter
3 medium beetroot (125g cooked and peeled)
A pinch of salt
1 tsp vanilla extract
A 20cm square baking tray
What to do
1. Preheat your oven to 180°C fan.
2. Melt the butter in a small saucepan and set aside to cool.
3. In a food processor, blitz the beetroot to a puree.
4. Mix the cocoa, flour, chocolate chips and salt together in a bowl.
5. Whisk together the cooled melted butter, beetroot, vanilla, sugar and eggs.
6. Slowly fold in the dry ingredients, being careful not to over mix them.
7. Pour the mixture into a lined baking tray and bake in the oven for about 18 minutes. Insert a skewer into the middle of the brownie to check it's cooked. It should still be a little gooey but firm to the touch. As the brownie cools, it'll continue to firm up slightly.
8. Allow to cool before removing from the tray and slicing into squares.
If you're ever in Bath, be sure to pop in to see us at The Provenist for breakfast, brunch, lunch or an afternoon snack, to eat in or takeaway.