Choosing a kitchen work surface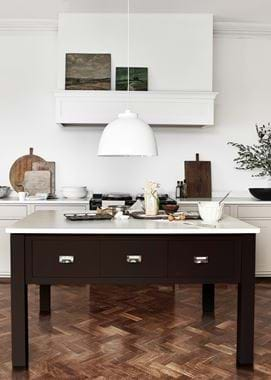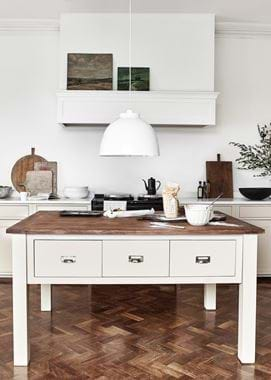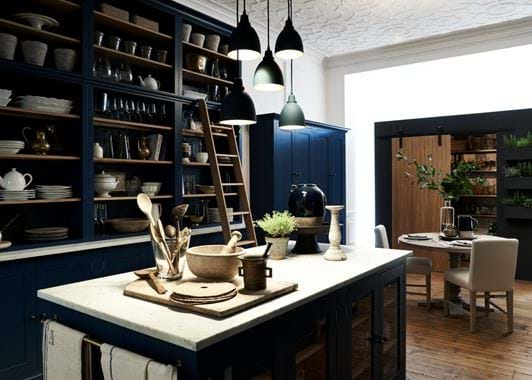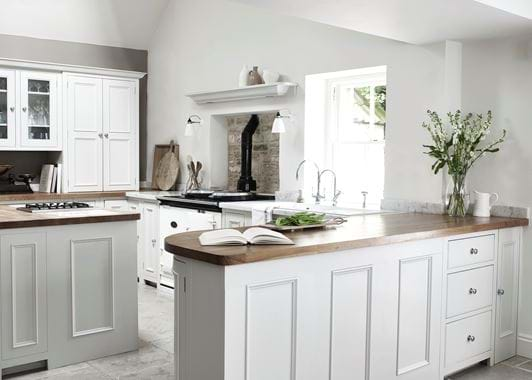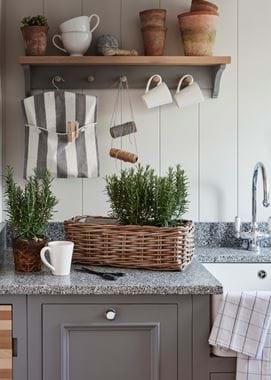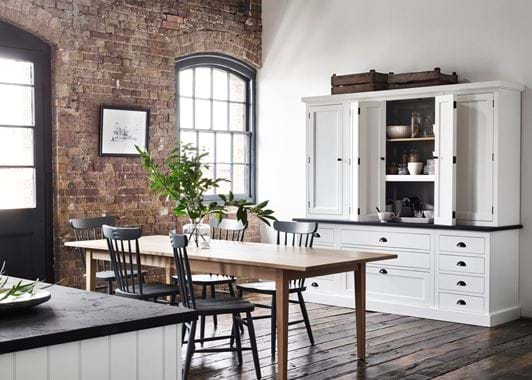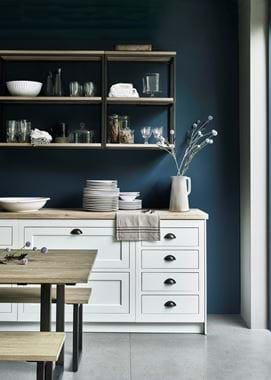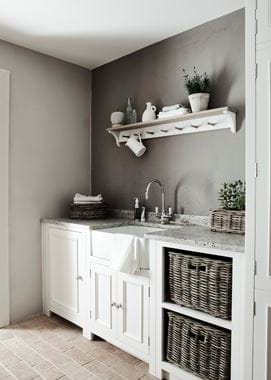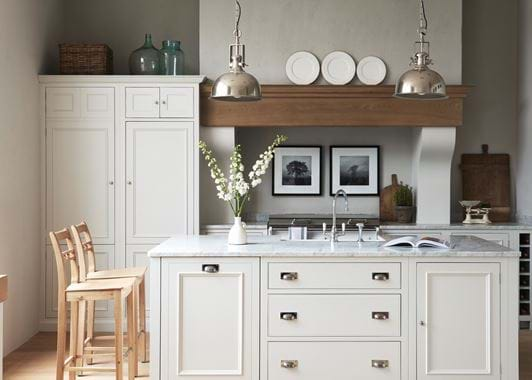 Choosing a kitchen work surface
Kitchen design is a careful balance between what's going to look good and what's going to work well. The aim, of course, is to achieve both. Cabinetry aside, one of the hardest decisions to make when redesigning your kitchen is what work surface to choose. Because there's no two ways about it – some are more practical than others. If you've got your heart set on a material that's more high maintenance, the big question you need to ask yourself is what do you prioritise – function or form? Here, we've included a rundown of the most popular kitchen worktops to help you decide which might be the one for you.
Quartz
This has become one of the most-loved work surface materials of all – mostly because one of the available finishes is similar to marble, so you can have a marble-like look but with much more practicality.
Quartz is a man-made composite, which basically means it's not natural stone, but instead, a mixture of various materials – like quartz crystals (which are natural), silica and resin – are crushed and mixed together to produce a new engineered substance. Different dyes are put in so that you can choose from various colours, patterns and finishes. Some are designed to mimic a natural stone like marble or granite (generally you can choose between a honed or polished finish as you can with natural stone), whereas others are purposefully sleeker and glossier for people who want a very contemporary kitchen design.
If you want a work surface that's low maintenance, doesn't need sealing (because it isn't porous like most natural stones), and that can take spills and knocks without causing sheer panic, then our quartz surfaces should be a strong contender for you. Silestone is a specific brand of quartz. The resin used in Silestone has microbe-killing agents so, in essence, it can kill off bacteria. We also offer another type of Silestone surface called Dekton.
The main things that puts people off quartz are that it isn't a natural product – and for some, that's a deal-breaker. It's also not completely bulletproof – you can't put a hot pan straight onto a quartz work surface as there's a chance it'll leave a ring because resin isn't able to take extreme heat. It can fade when it's in prolonged direct sunlight. And it's expensive – because it's such high quality – but worth it.
Timber
Wooden worktops have become less common because of scare stories around their impractical nature. At Neptune, we offer a few choices of solid oak work surface. It's a hardwood, so is robust and long-lasting, and it has a beautiful appearance and heritage, but it'll change over time because it's a natural material and nature doesn't stand still.
A timber work surface in a kitchen is a brilliant way to achieve a country look, but it also adds an undertone of rustic character in modern or even industrial-style kitchen. It's tactile, and the richness in its tone brings warmth to every sort of kitchen. It's also a naturally hygienic surface and has antibacterial properties.
But oak work surfaces are higher maintenance. Heavy knocks mean they're likely to dent, and despite oak being a hardwood, it'll scratch too. If you spill something on a wooden work surface, there's more chance of it staining unless you act fast. Even water splashes will leave rings unless they're mopped up quickly. So, near to the sink, you'll need to keep the surrounding wood dry otherwise it'll start to turn black over time. Like with quartz and marble, you'll need to put surface protectors down if you want to place anything hot on a timber worktop, otherwise it'll get scorched. And wooden work surfaces need oiling to stay protected and looking at their best; it helps them to build up resistance to stains too. It's not something that's hugely time consuming, but it's a job that some people want to avoid.
Oak surfaces look the part – that's for sure – but they're generally best for two sorts of people. Those who embrace a well-worn, loved and used kitchen and won't mind it taking on character and ageing over the years. Or, those who like their kitchen utterly spotless where there isn't a spill or stain in sight and don't mind the upkeep of regular cleaning and oiling. You can always combine kitchen work surfaces so that your key food prep and cooking areas are in a more hardwearing material, and then another section of your kitchen that's less prone to spills or moisture could be in oak.
Marble
Marble's a natural, metamorphic rock that's long been loved, but in recent years, it's become more and more of a feature in interior design. It's very much on-trend, but at the same time, it's timeless so you know that, when a new material takes the limelight, marble isn't something you're likely to fall out of love with.
Most of marble's plus-points come down to its good looks – its veining is what gives it most of its character, whether you choose from pale grey lines to dark and dramatic ones, and its backdrop colour is both crisp and calm so brings light to your kitchen. Plus, in a similar way that oak does, marble is one of those materials that feels prestigious, a little bit of a luxury, historic – marble makes you feel good. But one of marble's other advantages is its soothingly cool temperature. Marble is really quite cold to the touch which has a totally different sensation to oak's warmth. It also makes it perfect for pastry making!
Now to marble's downsides. Like oak, it's high maintenance and not always a good choice for busy kitchens where there's lots of cooking and lots of entertaining. Why? Because marble's porous and will stain easily. That means culprits like red wine and spices including turmeric will be difficult to remove. Most marble contains calcium or magnesium carbonate, both of which react badly to acid. That's why spills like lemon juice or vinegar can eat into the marble and cause small pits or little white etch marks in the surface. The bottom line is, marble needs to be handled with care, and when spillages happen, you need to move quickly before a stain sets in. We treat our Carrara marble with a special treatment (the same one used on the cladding of The Sydney Opera House) which adds a barrier of protection against stains, but not against etching.
Natural marble kitchen work surfaces are, without doubt, one of the most beautiful options, but they're most suited to hawk-eyed people who will leap into action the moment something is knocked over or splashed; to kitchens that aren't used as frequently; or to people who don't mind the fact that their marble won't stay pristine, and welcome the idea of the aged patina it'll achieve over time. 
Granite
Another natural material, granite is a resilient stone work surface that comes in a wide range of colours. It's an igneous rock that's forged in fire, which means that it's one of the few work surfaces that can manage having a hot pan placed directly on it. Even still, we'd always recommend using a protector because, while the granite can withstand extreme heat, if another area of the granite isn't exposed to it, it can cause linear expansion and potential cracks.
Granite is a very tough rock, so it's hard to damage. But the good news is that, if you do, it's generally very hard to notice and it's also easy to repair unlike some work surfaces. Granite won't fade in sunlight either, so if your kitchen is bathed in natural light, granite is a good option.
In terms of upkeep, granite is a porous stone so will usually need sealing every year or so, but other than that, it doesn't ask too much of you so it's fair to call it low maintenance. We even treat our own granite work surfaces with the same specialist protection as our marble, which means you won't need to keep resealing it if you'd rather not. And, because of its porous nature, it can stain like marble, but a lot of granite finishes are dark and/or dappled, so stains generally won't show anywhere near as easily.
Another benefit of granite is that, on the whole, it's not as expensive as some other work surfaces because it's more readily available.
For more advice on kitchen work surfaces or to see samples, just visit your closest Neptune store.