Christmas brunch: caramelised apple porridge with maple hazelnuts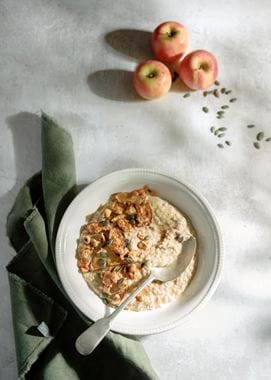 Christmas brunch: caramelised apple porridge with maple hazelnuts
The second in The Provenist's trio of brunch recipes to elevate your Christmas morning fare: a comforting, warming porridge recipe that's perfect for when there's frost on the ground, a fire in the grate and Nat King Cole on the radio.
Makes enough for two
What you'll need
A medium-sized cooking apple
100g porridge oats
A pinch of salt
50g raisins
60g hazelnuts, chopped
3 tbsp maple syrup
½ tsp ground cinnamon
200ml oat milk (or a milk of your choice)
What to do
Preheat your oven to 160°C. Peel and cut the apple in half, then finely slice it into half-moons, scraping out the core and pips. Place the slices on a baking tray lined with greaseproof paper and bake for about 15 minutes.
Take the apples out of the oven and drizzle over a tablespoon of maple syrup. To one side (or on a separate sheet) add the hazelnuts with another tablespoon of maple syrup drizzled over (keep the hazelnuts in a clump so the maple syrup forms a bit of a praline). Put both the apple slices and the hazelnuts back in the oven (still at 160°C) for 20 minutes, turning the apple halfway through. Once they have crisped up and the nuts have begun to turn brown, remove from the oven.
To make the porridge, put the oats, milk, cinnamon, salt and raisins in a saucepan on a medium heat. Stir continually until the porridge thickens, which should take about five minutes (depending on the oats you use, timings can vary and you may need to add a little more milk).
Once the porridge is thick and the oats softened, take it off the heat and divide between two bowls. Top with the apple crisps and break up the hazelnut praline and crumble over. Finish off with a final drizzle of maple syrup before serving while it's hot.
You can view more festive recipes created by The Provenist here.