Orange and clove Christmas Eve cookies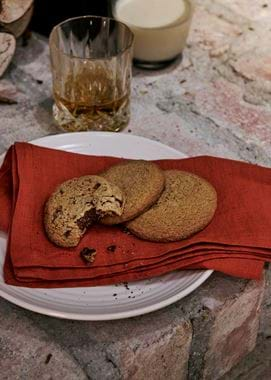 Orange and clove Christmas Eve cookies
Lightly spiced and fragrant, these cookies are lovely any time over the Christmas season, but we'll often set them aside for making especially on Christmas Eve – a new tradition to return to year after year, perhaps? Makes about 25 small cookies.
What you'll need
150g butter (softened)
160g soft light brown sugar
1 egg
1 orange, zested
2 tsp vanilla extract
225g plain flour
½ tsp bicarbonate of soda
1 tsp ground cinnamon
1 tsp ground clove
A pinch of salt
75g dark chocolate chips (optional)
What to do
Pre-heat your oven to 180°C.
Beat together the butter and sugar in a mixing bowl. (A tip: if you've forgotten to take your butter out of the fridge in time to soften, cut it into cubes and then add these to a bowl of lukewarm water for ten minutes. Drain, and they'll be perfectly soft and ready for creaming with the sugar.)
Once the butter and sugar mixture is smooth, beat in the egg, orange zest and the vanilla extract (if it starts to curdle, add a spoonful or two of flour now).
Sieve in the flour and bicarbonate of soda along with the spices and a pinch of salt, and stir to combine. That done, you can add in the chocolate chips at this point if you're including them.
Take teaspoons of the dough and roll into small balls. Place on a lined baking tray, press down gently and bake for about nine minutes, until beginning to brown around the edges.
Remove from the oven and allow to cool slightly before transferring to a wire rack to cool completely.
Serve with a glass of milk (or Santa's tipple of choice) and a carrot for the reindeer, of course.
This recipe was created by the chefs at our café, The Provenist. If you're ever in Bath, be sure to stop by and see us.