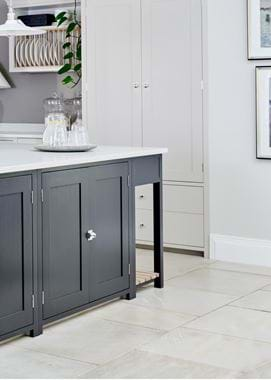 Seaton Sandstone Floor Tiles
With its pale grey and ivory flecks, Seaton reminds us of classic Portland stone – it'll go with just about everything. It's slightly coarser in texture than some of our other tiles, so it's one for people who like stone with character.
The finish
Seaton's a riven stone, which means it's cut to show off the natural marks and clefts. We tumble it with pebbles, sand and water, which makes it smoother without spoiling the texture.
Where we see it
Sandstone's extremely hardwearing, so it's great for floors that see a lot of use (and like all our stones, you can use it with underfloor heating). In a kitchen, it's lovely with painted wood cabinets that complement its organic look. It's also good for bathrooms where you might want a more textured, non-slip tile.
Neptune Code:
SET-SA-TF-01
Ca Pietra Flooring Delivery
Our stone tiles are one of the only designs we don't deliver ourselves, because they'll come straight to you from our flooring partner. We'll still handle everything for you though, from booking in your delivery date to finding out about any restrictions. When you place your order in store, we'll also be able to let you know the cost of delivery, based on your location and the size of your order.
No-quibble returns

For our full returns policy, please click here.